Corporate responsibility
As a sustainable investor, we set high standards for the companies in which we invest – and our clients expect us to uphold the same standards in our own business. This means running our business in a responsible and sustainable way, and seeking to have a positive influence by managing the impact we have on society, our communities and the environment. By taking concerted action in the following areas, we can shape this impact – and enhance our ability to generate the long-term returns on which our clients depend.
Our culture
Our people are our most valuable asset and the key to what makes our company succeed. Their skills and values shape the experience that clients receive – and help us earn the trust that underpins our business.
Corporate citizenship
As a global organisation we recognise the positive impact we can have on the world – and not just as an investor. We deploy our resources and employees' skills to contribute to the social and economic development of our communities. By concentrating our activities around a small number of priority areas, including the following, we can have a more significant impact.
Protecting the environment
Two of our recent partnerships that support our efforts in protecting the environment are the partnership with Tara Expeditions Foundation, a leader in ocean study and a partnership with PRI in Person conference to offset the direct greenhouse gas emissions.
Empowering the next generation
We aren't just an active asset manager – we also seek to use our resources and employees' skills to have a positive impact on the social and economic development of our communities. This is why we also use our investment knowledge to promote financial literacy among younger generations.
Client satisfaction
We make client satisfaction a top priority, because we want our clients to be confident to stay with us over the long term. Our mission is to create and share value together with our clients, and some of our products require a multi-year commitment on their part.
That's why we scrutinise our performance through independent client satisfaction surveys. These are important not just for highlighting our strengths, but also for identifying where we need to focus more attention so we can follow up with a firm-wide effort to make improvements.
The latest results from 2022 demonstrate our focus on client service and show that we are continuing our track record of high levels of client satisfaction: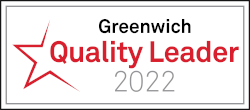 Greenwich Quality Leader in Overall Continental European and German Institutional Investment Management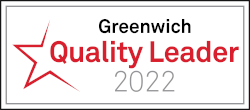 Greenwich Quality Leader in Overall European Intermediary Distribution Quality and Overall Asian Intermediary Distribution as well as Overall Asian Institutional Investment Management Quality
Source: Greenwich Associates.
A ranking, a rating or an award provides no indicator of future performance and is not constant over time. Investing involves risk. The value of an investment and the income from it may fall as well as rise and investors might not get back the full amount invested.
Compliance and data privacy
We aim to earn our clients' trust and maintain their confidence in us by holding ourselves to the highest ethical standards. We use a robust set of processes to promote ethical conduct, protect client confidentiality and manage risk, with a focus on the following key areas:
Environmental management
We believe in leading by example, and strive to achieve the same environmental, social and governance (ESG) standards that we demand of the companies in which we invest. This includes seeking to limit the impact of our business operations on the environment. The overview below is a snapshot of our engagements in our offices around the globe.
Green Group
To encourage a broader awareness of environmental sustainability, our US offices established a new Green Group to promote volunteering and other initiatives that will reduce the firm's environmental impact. The Green Group works to implement a more eco-friendly approach across all US locations.
Plastic-free Tuesdays
In London, our Plastic-Free Tuesdays campaign encourages the reduction of single-use plastic to support the move from single-use to multi-use consumption. Even small changes can make a difference – including carrying a reusable water bottle, buying lunch without a plastic container or bringing in your own reusable food container, and saying no to disposable cutlery.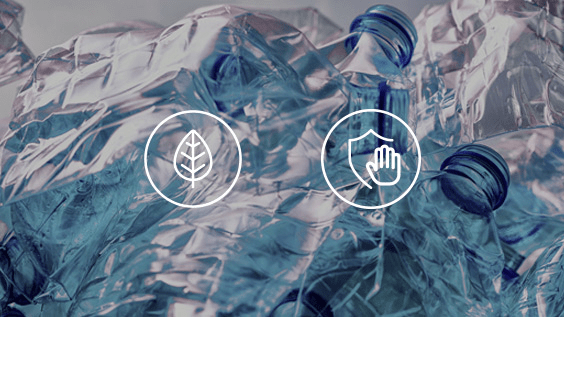 Food recycling approach
Our London office introduced an innovative food recycling system to reduce what is sent to landfill – we hired a firm to collect our food waste and take it to a plant for processing. Here the bags are unpacked and food waste is processed in an anaerobic digestion plant. The food waste is then processed into energy and fertiliser.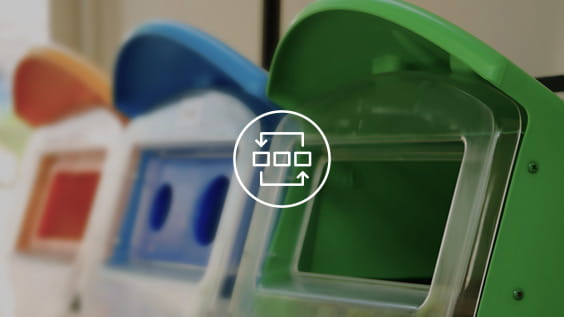 Certificate for energy saving
The construction of our Frankfurt office has been designed in a way that it reduces our carbon footprint. This is underlined by several certificates that we have received (e.g. TÜV Nord certificate for Climate Change Standard TN-CC 020 and a Mainova certificate for Calculation and Verification of Carbon Footprint and Carbon Neutrality).
Awards for active management
Our Hong Kong office was awarded the "Hong Kong Green Organisation Certification (HKGOC) – Wastewise Certificate" and "Energywise Certificate" in 2019 in recognition of our active participation in adopting various environmental practices and promoting a green workplace. HKGOC aims to set a benchmark for companies based on their green commitment and encourage eco-friendly practices in the workplace.
Junk mail
We receive a lot of junk mail from advertising companies (approximately 13,000 letters/brochures per year). We asked all advertising providers not to send us physical mail, but to use our business email address instead. This saves paper and printing resources and lowers CO₂. We were able to reduce the volume of mail we receive from more than 13,000 letters to less than 9,500 letters per year.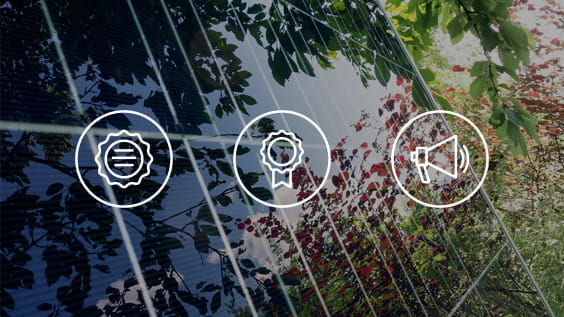 World Cleanup Day
Our colleagues from Munich, London, San Francisco, Taiwan and Hong Kong participate in World Cleanup Day, removing harmful plastic and debris from our beaches to protect our ocean and raise awareness of plastic pollution.
(e-)bikes and motor vehicles
Our Frankfurt employees can use several free bikes to attend meetings or business lunches in the city with customers or other business partners. We've also built the electric charging infrastructure for motor vehicles and e-bikes.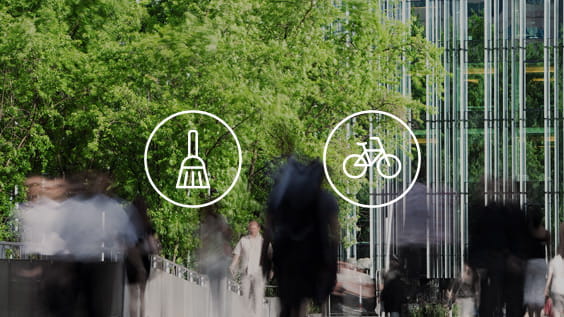 Investing sustainably for the future